home
Gallery
About
Events & Productions
Education
Tree of Fire
Partners/Supporters
Press
Contact
TREE OF FIRE Synopsis
When a Magnolia tree catches fire in an aged and ominous women's prison, three female inmates forgotten and left to perish are jolted as their lives are threatened, into memories of their past that inform the truth of their souls and the urgent need to expose the inhumanity of the prison to the world.
---
Please click through to view the exquisite visuals created by Lyn Gaza and Brandon Hunter Harrison as well as to hear some of the original soundtrack from Dream Sequence Productions.
---
We are so incredibly happy to announce there will be a Staged Reading of TREE OF FIRE on Thursday April 11, 2013 at Occidental College in honor of their Incarceration Awareness Week.
---
We have our cast for the March 2013 production at Inner City Arts' The Rosenthal Theater! TREE OF FIRE has the most phenomenal cast we could have dreamed of!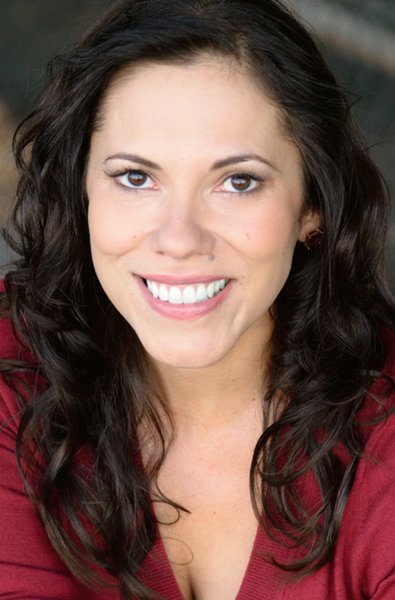 Romi Dias
---
TREE OF FIRE: On the Move and in Production!
Our staged reading on Sunday, October 14, 2012 at Inner City Arts' Rosenthal Theater was a truly extraordinary evening. The actors were on fire, the audience was electric, and the wonderful staff of Inner City Arts were present including Dolores Chavez, Theater Director and Joseph Collins, CEO.
We now move into full production mode and are using the crowdfunding agent IndieGoGo to help reach our production budget. We need over $30,000 to bring this play to life, moving all those who experience it. We are asking for $10,000 as a base start to get us going. We are excited to open up an amazing opportunity for you to be a direct part of bringing this story to life. We offer a powerful play and some incredible rewards for your support of "Tree of Fire."
The Impact
This project is extremely valuable to you and to the world. By helping bring this story to life, you are directly contributing to the critical conversation of The Prison Industrial Complex. Never before in history, here in the U.S. or in any other part of the world, have there been more incarcerated people. Many of these inmates are youth. Light needs to be brought to this emergency of mass incarceration. Tree of Fire does just that, using strong storytelling that weaves humor, magic and music to help tell the tale.
Click here to view video on TREE OF FIRE:
The Roots and Wings Project has an extraordinary track record having sold-out our last site-specific play, A Record of Light, that ran in Los Angeles' treasured 18,000 sq. ft. cultural hub, The Last Bookstore in Fall 2011. We also sold-out the 99 artist Occupy This! event at the new Casa 0101 Theater in Boyle Heights in 2012. All of our events in support of Tree of Fire have garnished enormous support, drawing large audiences and stellar artists.
After a four-year journey, we are excited to see Tree of Fire bloom into full production allowing artists and audiences to experience the powerful transmutation this play offers.
---
The Roots and Wings Project Proudly Presents...
A Staged Reading and Fundraiser Launch of
TREE OF FIRE
A Play by Jesse Bliss Woods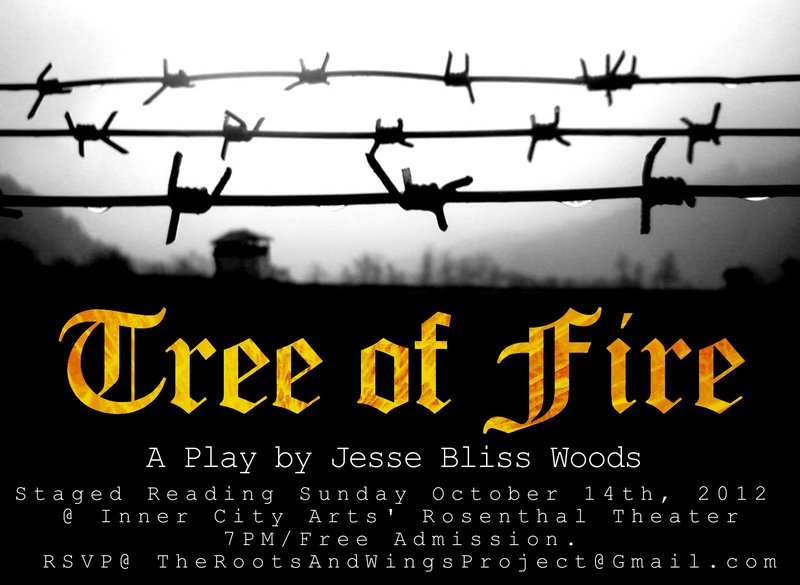 Sunday October 14, 2012 @ 7 PM
720 Kohler Street Los Angeles, CA 90021
FREE Admission
Starring
Produced by Peter Woods & Jesse Bliss Woods
************************************************************
HISTORY
Tree of Fire has a rich history with staged readings, excerpt performances and fund raisers at UCLA, Lincoln Heights Jail, Theatre of Note, and S.P.A.R.C. at the Old Jail in Venice. The play was written to be performed in abandoned prisons. We were challenged with the extreme bureaucracy that is housed in these site-specific venues. The Roots and Wings Project realized the story was being held back. In order to get it told, a collective decision was made to find a new kind home for the play.
OPENING
---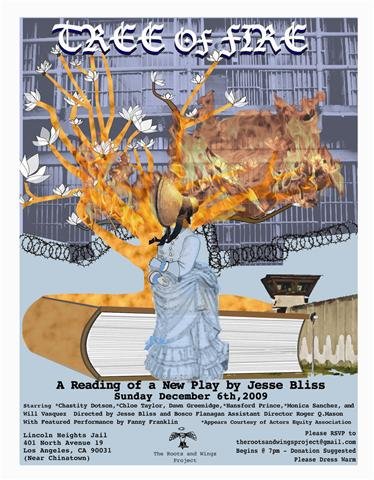 TREE OF FIRE by Jesse Bliss
Excerpt Reading @ S.P.A.R.C. @ The Old Jail in Venice - April 2, 2011
Starring
Miriam Glover & Jacques C. Smith
---
Excerpt Performance @ Theatre of Note
Starring
Dawn Greenidge and Victor Dickerson
---
Staged Reading @ Lincoln Heights Jail
starring
*Appeared Courtesy Actor's Equity Association
With a Featured Performance by Fanny Franklin
Song title: "Electric Seed"
Jesse Bliss and Fanny Franklin
(Featured on The Roots and Wings Project Homepage)
---
Excerpt Performance @ Theatre of Note
Dawn Greenidge and Victor Dickerson